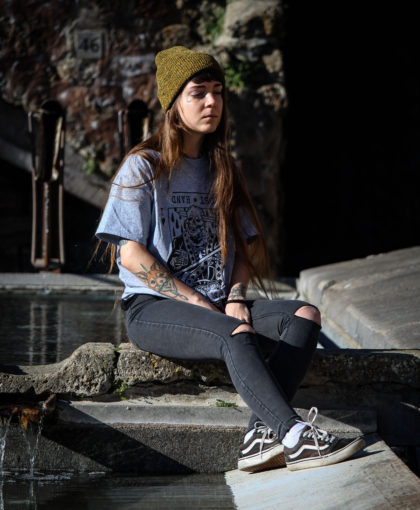 Elena Mignani co-founder of The Devil's Playground featured in the January issue of Models Ink Magazine. She is a tattoo artist @vokuntattoo specializing in Dark Neotraditional style.
INTERVIEW:
MI- If you could get tattooed by any artist in the world, who would you choose?
EM – There are too many artists that I want to get tattooed by. But if I really need to choose it would be Neotraditional artists Karlos Lloyd from Australia or Glendale Bully from San Diego.
MI- Based on your portfolio your clear distinct style is Neotraditional, why and what is your second style of preference? Which is your least favorite style to do or your weakest in your opinion?
EM – The style I prefer for sure is Neotraditional, but I turn my hand to other styles in rare occasions. If I need to pick a second preferred style, I would probably choose illustrative black work. My least favorite style for definite is realism, I don't have anything against realism artists or the skill it takes to be done, there are some amazing realism artists out there for sure. I think the more "illustrative" styles take more creativity and they give the artists chance to express themselves through their work.
MI- Do you get to be selective of the clients you take on? Have you turned down a client because of their choice of tattoo or style?
EM – I'm not very selective with my clients, but I always prefer to draw the subject brought to me in my style. I often turn down clients when they are irremovable about their choice, when they pick some design from the internet or a photo of another tattoo artist work. As well as when they bring realism pieces, since I'm not keen on doing that style and I would sooner push them to go to a realism artist instead.
MI-Do you have any hobbies that are not art related? What do you do in your free time or just for fun?
EM – I don't really have any other hobbies that aren't art related. But in my spare time when I'm not drawing, me and Jamie like to experience new places and go for walks with our cat.
MI- Before becoming a tattoo artist what did you want to do for a career growing up?
EM – When I finished high school I wanted to become a Comic artist or an Illustrator for video games companies, the path I chose eventually leaded me to tattooing and to be honest I'm very grateful of that. I wouldn't have enjoyed being a comic artist as much as I enjoy tattooing.
MI –  What are the biggest setbacks or obstacles that the tattoo industry faces?
What would you change about the industry?
EM – "It's very difficult if you are not a well known artist to get the trust from people and clients, especially for your custom work. A lot of tattoo studios won't even look your way if you don't have thousands of social media followers.
I would probably introduce more regulations about tattooing, making available courses that you need to take to even become a tattoo artists, to avoid all the problems happening, especially in the UK. In Italy to even pick up a tattoo machine you need to attend a course where you are educated about Dermatology and the technical aspects of tattooing. This would surely help reduce the pain for tattoo artists that have to cover up improper work and for people getting bad tattoos. (lol)
MI – What are your favorite things/advantages about the industry?
EM – My favorite things are that you are free to express yourself and you get appreciated because of it. The relationships you form with other tattoo artists that help you to improve and make always better artwork.
MI – Do you plan on traveling overseas (or have you already), to tattoo? Have you been to the U.S? Would you consider a tour?
EM – I went to the UK to proceed with my tattoo career and make some new experiences which were different from the one in Italy. I tattooed in Finland as well when me and Jamie move there for 7 months. I definitely learnt a lot from those experiences, and I can say that now I'm a better artist than when I was in Italy. I have been to the US but just for holiday, i would definitely consider doing some guest spots there at some point if I have the chance.
Check out Elena and the rest of The Devil's Playground Crew in this issue of Models Ink Magazine (View on ISSUU
48 pages, published 1/23/2020
Models Ink Magazine, featuring models, photographers and artists. Cover feature Tattoo Artist, Valentina Riabova